SR 1250
The TUFFASS SR1250 is side delivery manure and compost spreader, designed for mixing and spreading bulky materials directly under the tree or vine. Ideal for macadamia, avocado and any line crop. Made of heavy duty material to suit Aussie conditions.
Options

| | | | | |
| --- | --- | --- | --- | --- |
| Capacity | 1m3 | 4m3 | 6m3 | up to 15m3 |
Contact for price In Stock
| | |
| --- | --- |
| Type | Trailing |
| Action | Front Turbine |
| Spreading Product | manure, compost, woodchip |
| | |
| --- | --- |
| Operating Requirements | Minimum 50 HP |
Description
The SR1250 is a side delivery turbine row spreader designed for vineyard, crop beds and orchard spreading.
The combination of chain floor and front turbine design allows the SR1250 to mix products within the spreader, without needing to mix them before loading. The heavy duty turbine also makes it possible to spread bulky material such as wet compost, mill mud or mulch.
The side delivery system can be adjusted, and can deliver efficiently to the root zone - up to 7m under the tree line. This makes the SR1250 perfect for spreading manures and composts for soil improvement, or water management.
The SR1250 can also serve double duty as a dump wagon, as the floor direction can be reversed. This allows material to be loaded, and then fed out the back through the door.
Available in a range of sizes, some models of the SR1250 can be fitted with hungry boards - reinforced side panels - to further increase capacity. Brakes are also available, and can be fitted.
Designed as a durable high capacity spreader, it is built to be tougher than similar machines on the market. The SR1250 does this with a heavy duty gearbox, and heavy duty floor chains - features that are easy to miss unless you are paying attention.
Comes with a 12 month warranty, and we stock a range of spare parts for the SR1250.
Optional Extras
1m3 - 20m3 Capacity
Hydraulic brakes
Hydraulic front control door
Tandem axle
Suspension
We recommend this spreader for macadamia or avocado farms, or other tree crops requiring heavy mulching and soil care.
The heavy duty turbine can apply just about any material under the drip line, including compost and green waste.
Testimonials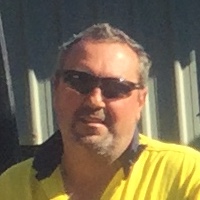 " We set about spreading over 4000m3 of soil in 9 days on our own farms. That would have destroyed most spreaders available on the market, but not our Tuffass machine - it did it and more! "