Daniel Blanco - Macadamia Grower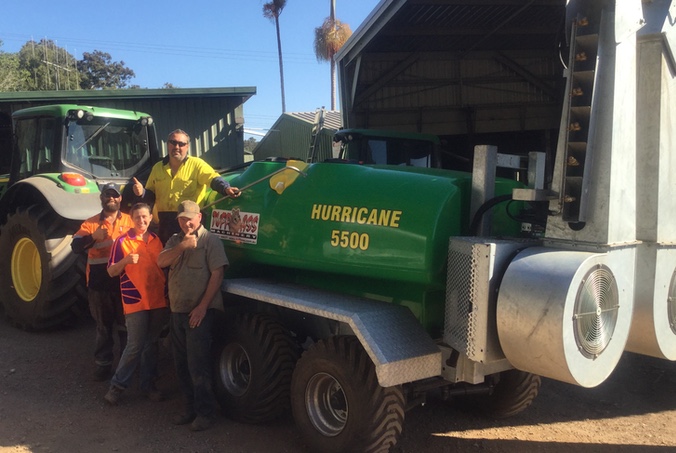 NEW Tuffass HURRICANE 5500LT sprayer has NO equal in Macadamia orchard.
By Daniel Blanco
Daniel Blanco of Belmac Pty Ltd has just completed a full spray season with the latest innovation in sprayers from Tuffass Machinery in Lismore, NSW.
Belmac has a total of 42,000 macadamia trees in several locations around the Gympie area of Queensland. With trees ranging between 8 -12mts in height on row spacing's of 10mt x 4mt and 8mt x 5mt. Averaging a total of six (6) complete spray rounds per season.
On delivery and testing of the spray unit it was discovered the average speed of 6.5km/h can be maintained whilst applying 10-12lts/tree depending on the density. This means a full tank of 5500lts can be applied every hour. Manoeuvrability of spray direction with two (2) adjustments per side, make it easy to place the chemical where it is needed in the canopy, with all adjustments made from within the tractor cab.
The sprayer was supplied standard with a rear steering axle. It is perfectly balanced when travelling when full or empty due to a rocker beam suspension and 4 wheel braking, which makes it possible to spray safely and easily with 14 degree grades and slopes. Very stable.
The galvanised chassis and trailer is strong and features platforms, rails and great accessibility to the rear nozzles. Every component is easily accessible for daily servicing. An added feature is a separate 1000lt flush tank to ensure nozzles and pump can be flushed with clean water at any time and of course a hand wash tank for personal hygiene.
The 2018 season saw us apply 2.77million litres with the NEW Hurricane sprayer. According to our and our entomologist records the past six seasons of our operating these farms our spray results have not been this successful, and this has been a season of high insect pressure.
The investment in the Hurricane sprayer developed by Shaun Stead at Tuffass Machinery Lismore will return its value in one season due to full and correct spray coverage achieved at a speed unheard of in the industry.
I can highly recommend this model sprayer to anyone in the Macadamia industry.
- Daniel Blanco, Wolvi via Gympie, QLD (2019)
Product Purchased
TUFFASS Machinery
155 Casino Street
South Lismore
Open 8am – 4:30pm, Monday to Friday
Let us fit you for a machine
Our product experts can help select the right machine for your needs
Special Offers
Check out our current special offers and new stock